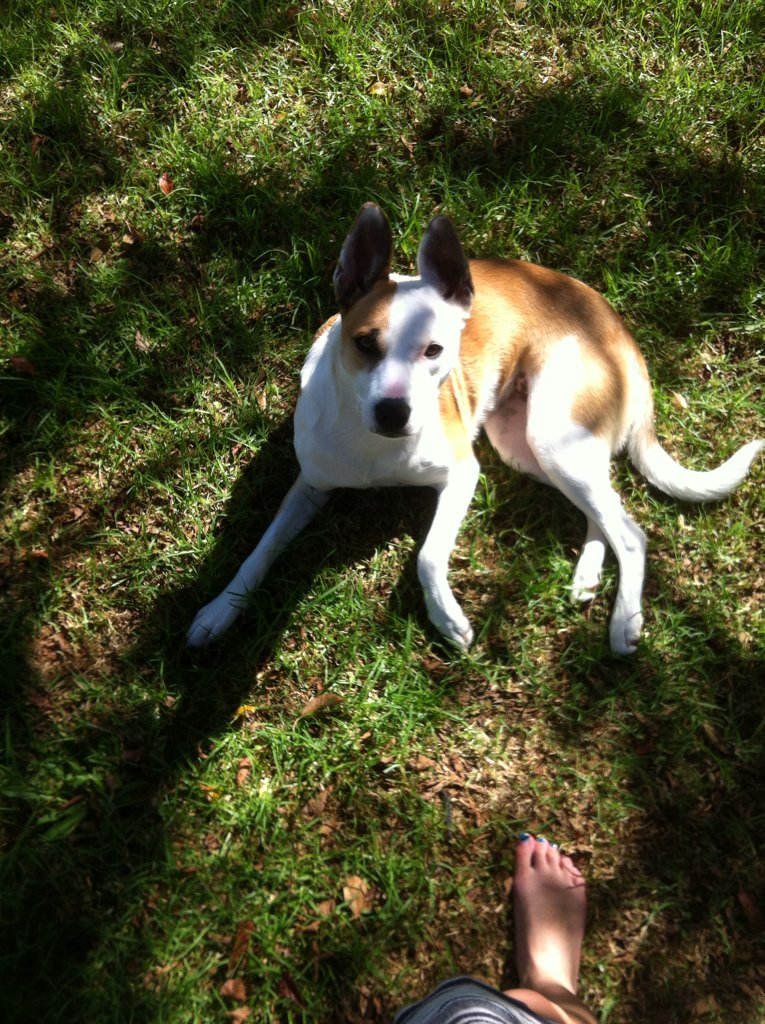 I think it goes without saying that pets are a quality of lifestyle choice. They're never going to save or make you money. And yet they're worth it all.
We adopted Leila in the spur of the moment.
The plan was always to get a dog, but actually going to the SPCA one weekend – before the purchase of my house was entirely completed – was done on a whim. We fell in love with her and filled out the paperwork that day.
Once I got the house keys the following week, T set about making sure the yard was ready and the fence hole free, arranged the property inspection and went back to visit her at the SPCA in the interim.
And then, the day we physically moved into this house was the day we picked up Leila and brought her home. It was a manic time and it would have probably been easier to wait a while as per my original plan!
While I haven't been tracking everything closely, here's  a rough guide to our dog set up costs.
Dog adoption fee – $265
Can find puppies for sale in each state from Puppy Joy, it cost $265 to adopt our dog from Auckland SPCA. She was an adult dog; puppies cost a little more. She was up to date with her vaccinations and won't need more for many months.
Collar, leash, bowl, bed, brush – $140
Kind of a rough guess here, but ballpark? We need to replace her collar as it has stretched out over the past few months. She also has her own designated armchair which she sleeps on (a crappy old one that is still usable but not comfortable) and is probably a huge step up from her now-chewed bed.
Kennel – $170
We sprung for a cabana style kennel – it's lightweight and easily portable and made of similar material to the bed she had at the SPCA. While she spends most of the time indoors when we're at home, during the work day she's roaming around outdoors. There are a few trees for shade and our deck is mostly covered but it's still quite open, and now that winter is here…
Obedience classes – $70
Perhaps not strictly necessary, but probably a good idea. She's well behaved but far from perfect, and as a first time owner I have lots to learn.  And if we put her into agility training later on, she needs to have completed this course first.
How much your dog costs to feed is going to vary. Leila eats about 2 cups of dry food a day. We started with a 15kg bag of kibble which was on deep discount – it cost about $30 but is normally closer to $50. I imagine this would have lasted 2 months if this was all she ate, but there's still a bit left. We mix up her diet a lot, with some raw meat (which she absolutely loves), canned food and dog roll.
Dogs need stuff to occupy them too, and you can spend as much or as little on toys as you want. I've made her a few toys out of household odds ends – mainly old clothes and rags, sheets etc, and she's claimed a small stuffed toy that used to be mine, as well as random balls that we had lying around. We've probably spent about $100 (ouch) on toys. There's a Kong food toy in which we put food to help with skin allergies, a Kong tennis ball (because she decimates normal tennis balls), a food puzzle ball toy, a tug rope monkey, a fake chew bone and there was an orange rattle toy that also got destroyed.
Flea treatments can be bought at the supermarket and they do go on sale! I bought a 3-month pack for about $30.
We still need to enrol her with a vet, and do something about her claws and teeth which are probably due for maintenance. Sigh.